Top 5 Reasons to Have A New Water Heater Installed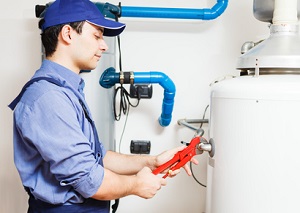 Does your Fairhope home need a new water heater? Whether you have an older, broken, or inefficient water heater or you are just looking to add value to your home, there are 5 great reasons to have a new water heater installed today.
Upgrade your Outdated Model
Traditional water heaters have a typical lifespan of 10 to 15 years before they need to be replaced. If yours is approaching ten years of use, it is time to think about replacing it. If your water heater stops working, your Fairhope household could be facing worse consequences than a few days of cold showers. As your water heater ages it can develop small leaks that go unnoticed, causing potential water damage or even mold growth in your home. Even worse, sometimes old water heaters can rupture suddenly, flooding your home and causing massive damage and inconvenience. Update your aging water heater before it wears out completely to ensure that your household will not have to face the frustration of cleaning up after a flood. Beyond ensuring that your hot water needs are met, replacing an old model with a new water heater means that you will be able to choose a water heater that is equipped with the latest heating and safety technology, so you can feel confident that you are getting the best performance out of your water heater.
Replace a Failing Water Heater
Maybe your water heater should have a few years of life left in it, but you suspect that it may not be performing as well as it should. There are several signs to look for if you think your water heater may be breaking. If you have only lukewarm water coming from your water heater, or if you have hot water but only for a short time, it is possible that an element has gone out in your water heater. Or, if your water heater makes banging or rumbling noises, that is a sign it may have a layer of hardened sediment at the bottom. That sediment could strain your water heater and eventually cause damage from the inside out. Leaks are also a tell-tale sign that your water heater may be wearing out. Leaking water is always trouble for a homeowner, so act quickly if you find a leak. Another sign to watch out for is rusty-looking water coming from your hot water faucet. The rust could be coming from the inside of your water heater, which is a sure sign that your water heater is breaking down. If you do have signs of rusty water coming from your faucets, contact the Fairhope plumbing professionals for an assessment to determine if you need to install a new water heater.
Save Energy and Money
In most households, the water heater accounts for the second most energy usage in the home. In other words, after heating and cooling costs, the next biggest factor in your energy costs is your water heater. When you install a new water heater, you can be assured that you are getting a model that meets the minimum standards of energy-efficiency. Regardless of whether you opt for a gas or electric water heater, higher energy efficiency will save you money on your energy bills. If you choose to select an Energy Star rated model, then you can save even more on your energy use. For more savings, a great alternative to standard storage water heaters are tankless models. Tankless water heaters are designed to provide continuous water on-demand while using less energy than traditional models. Consult with the experts at 5 Starr Plumbing today for more information about selecting and installing your energy-efficient water heater!
Add Capacity to Suit Your Needs
If your water heater cannot keep up with the demands of your Fairhope household, having a new one professionally installed could be a great option for you. Water heaters come in a variety of sizes, so it is possible to replace yours with one that offers more hot water to meet all your bathing and cleaning needs. Tankless water heaters can also be a great choice for families who never want to run out of hot water. Because they produce hot water continuously as it is needed, tankless water heaters can help make sure your hot water needs are met. Consult with the qualified experts at 5 Starr Plumbing to see what type and size of water heater will best meet the needs of your home.
Add Value to Your Home
As with any new appliance, installing a brand-new water heater in your Fairhope home can add value to your property. If you are looking to sell soon or just thinking about the future, finding ways to add value to your property is always a smart idea. Buyers love the peace of mind that comes with purchasing a home with up-to-date appliances, and the water heater is no exception. If you think your older, inefficient water heater is a drain on your home's value, upgrade today!
If you decide a new hot water heater is right for you, be sure to contact professional plumbers to get started. Installing a water heater can be tricky and dangerous if done improperly. The Fairhope plumbing contractors at 5 Starr Plumbing have the expertise and knowledge to help you decide which hot water heater will best suit your needs, and the skills and experience to professionally install your water heater the first time.