Your Baldwin County Water Leak Repair Specialist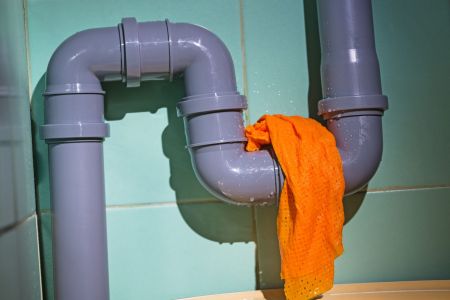 Do you have a water leak that needs repair for your Fairhope home or commercial property? If so, you can count on our professional Fairhope plumbers to provide you with fast, convenient repairs.
Old plumbing lines and connections often spring leaks, and sometimes it's a slow but sure leak and sometimes a pipe will burst, shooting water across your room.
Regardless, you need quick repairs to keep your valuable home safe from flooding and contamination from sewage wastewater.
Water pipes and all the connections, hoses, fixtures, faucets, valves, and a large number of moving parts will all get old and will eventually have to be replaced. But until you're better off replacing the pipes with our repipes service, you may just need a repair.
Our expert Fairhope plumbers are highly trained and skilled at all types of plumbing repairs for plumbing systems, both for residential and commercial systems.
If your plumbing shows any of the following signs, you could be having problems that will lead to a potential leak.
Rusted connections
Rusted pipes
Strange tastes or smells from faucet water
Scale buildup present on pipes
Odd sounds coming from your plumbing
Continual leaking in one area after another
Wet ceilings or walls
Sewer smells
When you have a leak and you need help, our experts at 5 Starr Plumbing can quickly diagnose the cause of your plumbing leak and make the repair. If you need further repairs or services, we'll an upfront, friendly estimate.
Sometimes one repair isn't enough to completely resolve your plumbing leaks, and if you need further repairs, you can count on our technicians to be honest. We'll never try to have you make a repair or pipe replacement that you don't need. And all of our work is backed by a guarantee in workmanship.
Remember, we're available 24/7 so no matter when you have a Fairhope water leak, our service men and women are available to help you!
Our Fairhope Water Leak Professionals Provide These Detailed Services
Water Leak Repairs
Commercial Water Leak Repairs
Residential Water Leak Repairs
Burst Pipe Repairs
Exploding Water Heater Repairs
Cracked Lines Repairs
Corroded Faucet Repairs
Leaking Connections Repairs
Frozen Pipe Repair
Leaking Appliances Repairs
Broken Fixture Repair
Appliance Hose Replacement