Dependable Fairhope, AL Plumbers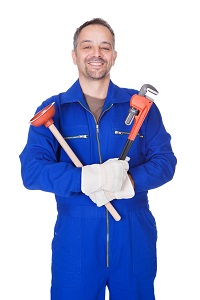 5 Starr Plumbing is a professional, licensed, and insured Fairhope plumber that you can trust to deliver excellent workmanship and customer service. Our upfront free estimates and quality service will meet your Plumber service needs in the Baldwin County area.
Our expert plumbers and staff work together as a team to ensure you receive only the highest quality of service. We hire only quality plumbers who are experienced in the industry and uphold our standards of integrity. You'll have the only the best with 5 Starr Plumbing because you are our number one priority.
This is why if you are looking for a plumber, you'll find the right technician for the job at 5 Starr Plumbing.
Whether you are a commercial or residential property owner, our technicians are fully trained to handle your needs. There's no plumbing problem too small or too large for our plumbers who have years of experience providing Fairhope with quality plumbing repairs, replacements, and installations.
Fairhope Water Heaters
If your water heater isn't providing you with enough hot water or is sporadically supplying it, you'll need our water heater repair services. There are many things that can go wrong with your water heater to cause the lack of hot water supply. If your water heater has a tank, it could be that the heating elements are worn out or any number of other parts could be malfunctioning.
Our professional plumbers will evaluate your Fairhope water heater and advise you of what needs to be done in order to repair it.
If your tank is old and you would be better off replacing it, we'll supply you with information for a new system. You'll only get honest recommendations from our plumbers here at 5 Starr Plumbing. So rest assured that we'd never try to sell you something or make a repair that you don't need.
Grinder Pumps in Fairhope
Fairhope grinder pumps help your plumbing system by pumping wastewater and grinding it up so it can be sent on into the local sewage system.
This is necessary most often in our area. If your alarm sounds on the pump, you'll first push the silence button. If the red light doesn't turn off within about an hour or so, then call us for a quick diagnosis and possible repair.
At 5 Starr Plumbing, we have the latest technology and fully equipped vehicles so we're ready to serve you quickly. When you need emergency service, all you need do is pick up the phone and call us whether it's night or day. Our 24/7 emergency services are available to you.
You'll not have to worry about waiting for common parts that your plumber should have with them, because all of our trucks are stocked. We want to do everything possible to earn our 5 Stars with you, our best customer!
Reviews and Testimonials for 5 Starr Plumbing in Fairhope
Would highly recommend 5 Starr!! Great service and responded quickly to our emergency call. We were very happy with the results. Will call again in the future.
5 Starr is a star! They treated my issue as an emergency and therefore were on site within the hour. The quoted price was exactly what I paid, and they were extremely professional.If hardworking, knowledgeable plumbers are what you need, call the stars at 5 Starr Plumbing.