Tips For Avoiding Clogged Drains in Fairhope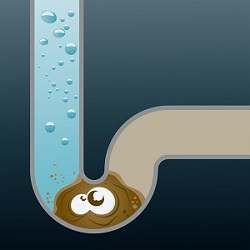 If you have ever had a clogged drain, then you know how much you'd like to avoid having that issue again. There's not much worse that will convince you to keep your Fairhope plumbing drains clean than having to deal with a stinky, sticky mess that can make you sick. Imagine a room flooding with wastewater from the commode or sink, and you'll be able to at least envision what it's like.
The good news is that there's plenty you can do to avoid clogged plumbing drains. The key is to realize that even the smallest of clogs can cause problems that can be unhealthy.
How many times have you taken a shower at home or elsewhere and not long after you start the water you find yourself standing in ankle deep water because the water drains out slower than it's coming in? If you look down at that water, you'll see the scum floating in it.
Gross! This definitely makes you want to take something and poke down the drain to get rid of the clog. Most of us have experienced this and even worse scenarios -including the backup of sewage waters that we end up having to clean up with a mop.
When a drain gets partially clogged, it can be pretty difficult to clean it out. If it gets unmanageable for you, give us a call here at 5 Starr Plumbing so we can help you -day or night, 24/7.
Here are a few steps you can take to avoid having to make that call!
Check Your Dishwasher Filter
Check the Disposal
Check your pipes connected to your appliances as well
Never, ever pour anything greasy down the drain
Don't put potato peels or stringy veggies (like celery) down the drain
Watch your kids! They love to put stuff down the commode!
You can probably imagine all the types of things we find in people's drainage systems! It's little wonder that the most common plumbing problem is from Fairhope clogged drains. All the junk, trash and waste will eventually build up in the plumbing and will cause various foul smells.
Worse than foul smells is when those things back up right into your home and onto you and your family or your belongings.
Other than trying not to do things that will clog your drains, we recommend that you have a plumbing check-up and drain cleaning service done. Your professional plumbers here at 5 Starr Plumbing will inspect your Fairhope home's plumbing system and clean out your drains thoroughly.
If there are any signs of mold, foul smells, or other things you can't get rid of in your piping, we can handle it because we do this every day and want to help people live in comfortable and safe homes! Remember, if you do end up with a clog, we are only one phone call away!