Tankless Water Heaters For In-Demand Personalities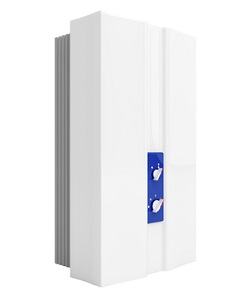 If you've heard about tankless water heaters, you've probably given the idea some thought for your Foley home.
Questions like:
Where would I put a tankless water heater?
What would I use one for?
Would I want several or just one whole house system?
Why would I want to change out my current water heater?
Wouldn't it be easier to just get another tank?
These are common questions you may have, and they make perfect sense. After all, with the last question it seems like it'd make better sense just to replace your old tank with another instead of trying to install some new system.
But there are a number of reasons to change to a tankless system, especially when your old water heater tank is ready to be replaced.
At the top of our list is the fact that with a tankless system, your plumbing pipes won't get the scale buildup that you would with a water heater tank.
Scale buildup occurs when minerals in the water are heated to a degree that changes them to scale. Scale will coat the inside of the pipes and is very hard to dissolve. With a water heater tank, the water is constantly being heated and scale is produced. It not only travels out of the pipes and into your fresh water lines (an into your glasses and in your dishwasher -yuck!), but also falls to the bottom of the tank causing sediment buildup.
That gunk in the tank can make you sick if you drink it. Which is one of the reasons we really like the tankless systems in homes. Not only are you more certain to get tasty fresh water from both the cold system and hot water system, you'll be healthier.
In fact Foley tankless water heaters are one of our favorite installations because they are designed with ingenuity and provide plenty of value and function customers.
Tankless systems are normally easy to install and can be put anywhere in your home where there's a plumbing line. If there's not a plumbing line, one can be installed, such as for remodeling or room additions. If there's not an existing line to add the unit on to, we can run a new line for you here at 5 Starr Plumbing.
Do you have a grandma cottage, a basement, a pool house, an extra bathroom, a workshop, or an outdoor living area you'd like to turn into an outdoor kitchen? Imagine being able to access hot water easily in ALL those locations. Whether you have a whole house tankless water heater or separate units, your options are open.
Plus, tankless water heaters will never rust out and leak like a tank will. Just this one issue can be reason enough to switch systems. Imagine never having to worry about the tank leaking or flooding your Foley home. If you've never had that happen, imagine a couple of bathtubs worth of hot water suddenly spraying out from a huge, rusted crack in your tank!
Maybe you would like to install one in a stand alone sink unit in your laundry room so you can have a nice, big sink to wash your mops and other large or bulky items.
No matter how you look at it, the tankless hot water system is a great addition for any home. At 5 Starr Remodeling, we can install a new system for you or repair your existing system no matter the model or type you have. Just give us a call to learn more!