What to Know about Your Fairhope Home's Plumbing System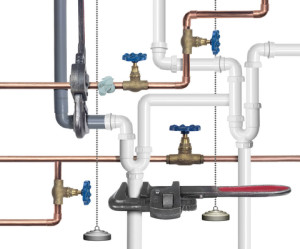 If you live in the Fairhope, Alabama area, your plumbing system will need attention from time to time.  Whether you're on a public water supply and waste-water system or you're on a well and septic tank, there are things you need to know about your plumbing system, and things your family should know in case you're away when problems arise.
During winter, temperatures can drop below 32?F or 0?C and cause problems like frozen or cracked pipes.  During the other seasons, problems may arise because of too much rain, tree root infiltration, saturated ground or other problems. Eventually, you'll probably have to deal with things like clogs, faucets leaking, and more.
So the question is, how well do you and your loved ones know your plumbing system and what will you do if you wind up with a leak, a clog, a flood, or some other plumbing issue?
One of the best ways to prepare your home for plumbing problems is to have enough information about your residential plumbing system. You need to know what your system does, how it functions, where it is, and most importantly how to shut off your fresh water sources in cases of emergency.  Remember that a little bit of education can go a long way, especially when it comes to your home.
Our expert Fairhope Plumbers at 5 Starr Plumbing are here at any time to inspect your plumbing system, clean your plumbing systems, and consult with you on where and how to operate the emergency shut off valves.  We'll be happy to come out and ensure everything is in proper working order, give you estimates of any repairs, check your well system, your pipes, your fixtures, check for things like water heater functioning, proper water pressure functioning, water purity, or anything else you need.  If you or your family needs demonstrations on your system and how to operate it, we'll be glad to help.
At the very least, you and your family should know where the water shutoff valve is to Fairhope area home. Anyone that's capable of turning the fresh water supply off should know where the main water shutoff valve is located. If they do and there's an emergency, no one will need to panic and your home won't risk further damaging conditions.
In wintertime, you need to consider what to do once temperatures drop below freezing. Because pipes that are holding water are at risk of expansion and cracking as the water in the pipes freeze, most houses have a water drainage valve that you can use to drain all of the water from your water supply system. Again, you will need to understand how the water system works, before you open this valve up.
Before you open this drainage valve to drain the water from the pipes, the fresh water supply to the house will need to be shut off.  Since we're just going over the basics here, we won't detail how it's done without being at your home to show you, but the main point to make about preparing your house to avoid plumbing issues is that you and your family are informed of of how the plumbing system needs to be handled, and how to avoid clogs and such.  
Everyone in the household who's of age to understand should know how to utilize the emergency shut off valves to your plumbing system as well as what they can and can't put down the drains.  Everyone needs to know who to call and what to do if they have an plumbing emergency and you're away.  
You don't want to come home and find the house flooded because someone didn't know how to turn the water off.  Any occupants that will be staying in your home needs to know where the water supply and the water drainage valves are, just in case there are any problems.
A little bit of information can save you and your family a lot of money in the future. Make sure that your family understands the home water system, especially any equipment fed by gas.  Instruct them of dangers and what to do in emergencies. You'll need to include, water heaters, gas fed systems, water supply pipes, water drainage pipes, sinks, bathtubs, showers, sewer lines, septic systems and tanks, toilets, dishwashers, boilers, heating systems and drainage traps.
When everyone knows what's going on, it's easier for you to rest easy while you're away.  Your plumbing and heating and air conditioning systems are vital for your home comfort, but they can be dangerous or cause a lot of damages to your property too if not handled appropriately.  
Be sure to post our business card or phone number on your refrigerator and let the adults know they can count on our services any time of night or day when there's an emergency.  Otherwise, we make appointments for you at your convenience.